En 2011, tous les e-commerçants et les "players" du web se sont rués sur Facebook pour y créer des magasins digitaux (F-commerce) et espérer générer du cash là où les membres du réseau venaient socialiser. Fin 2012, la plupart ont fermé boutique. 

Même si certains s'obstinent, la 15° "Mistery Shopping Study" relève un exode massif: le nombre d'e-commerçants avec une boutique Facebook s'est effondré de 63% à 6% entre les derniers trimestres de 2011 et 2012.
On continue à voir quelques boutons "achetez maintenant" ou "ajouter au panier" dans les flux d'activité parce que ces sites savent qu'il est essentiel d'être présent sur le site. Selon une etude récente d'eMarketer qui porte sur l'évolution du Facebook commerce, la question est de savoir si les e-commerçants peuvent se passer de la moitié de l'engagement social que représente Facebook. 
Still, even as fewer "buy now" and "add to cart" buttons sprinkle Facebook's newsfeeds and apps, US retailers know the importance of being on the site. According to a new eMarketer report, "Facebook Commerce: Evolving, Not Extinct," the question is whether or not retailers can crack the commerce half of social engagement.
Aujourd'hui, 98% des e-commerçants US ont une page Facebook et 97% ont un lien entre leur site et leur page. D'une manière générale, le partage est en hausse. Les nouvelles stratégies reposent sur l'utilisation de Facebook et des autres réseaux sociaux en phase de découverte en amont du processus d'achat.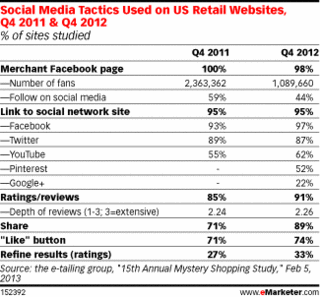 Même si le F-commerce n'a jamais réellement fonctionné, les sites d'e-commerce ont toujours une vision positive du ROI de Facebook dans le social commerce.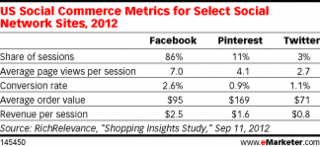 Les acheteurs qui viennent de Facebook convertissent deux fois plus que ceux qui viennent de Pinterest ou de Twitter. Cependant, ce sont qui viennent de Pinterest qui ont le panier moyen le plus élevé.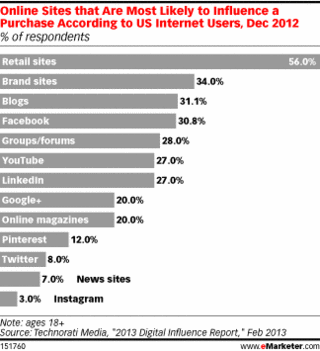 Même si on ne va pas sur Facebook pour acheter, c'est le réseau social qui influence le plus les achats. Autre moyen d'utiliser Facebook: faciliter les interactions entre amis sur une site ou une application. La clé pour cela est d'autoriser les login via Facebook. Pas réellement nouveau mais encore très peu utilisé.